Quotes, Blogs, and the like...



Memorable Sir Brooks Quotes:





"Off like a prom dress at midnight".





"God only gave you a limited number of heart-beats so,




don't waste them on anything that is not horizontal".





"Where there is a Will, there is an Inheritance".





"I see that you are able to achieve multiple sarcasms,

so by all means, do go screw yourself".






College Quotes and toasts


Here's to the perfect girl,

I couldn't ask for more.

She's deaf 'n dumb, oversexed,

and owns a liquor store

Here's to the breezes that blow through the trees,

That blow the skirts off of young girls' knees,

Which lead to the sights that sometimes pleases,

But more often leads to social diseases.

On the chest of a barmaid in Sale

Were tattooed the prices of ale.

And on her behind,

For the sake of the blind,

Was the same information in braille.

In all this world, why I do think

There are five reasons why we drink:

Good friends,

good wine,

lest we be dry

and any other reason why.

Of all my favorite things to do,

the utmost is to have a brew.

My love grows for my foamy friend,

with each thirst-quenching elbow bend.

Beer's so frothy, smooth and cold--

It's paradise--pure liquid gold.

Yes, beer means many things to me...

That's all for now, I gotta pee!

Here's to cheating, stealing, fighting, and drinking.

If you cheat, may you cheat death

If you steal, may you steal a woman's heart.

If you fight, may you fight for a brother

And if you drink, may you drink with me.

No matter how beautiful,

how smart, or how cute she is...

somebody somewhere, is sick of her sh*t!

May the winds of fortune sail you,

May you sail a gentle sea.

May it always be the other guy

who says, "this drink's on me."

"May you be in heaven fifteen minutes

before the devil knows you are dead."

Give a man a fish and he will eat for a day.

Teach him how to fish and he will sit in a boat

and drink beer all day.

GLOBAL TOASTS



French …….. "A votre sante!"
Italian ……... " Alla Salute!"
British……… "Cheers!"
Hungarian…. "Egé szé gé re!"
Japanese…… "Kanpai!"
Polish……… "Na Zdrowie!"
Russian……. "Za vashe zdorovye!"
Greek……… "Yasas!"
Chinese…… "Wen Lie!"
Irish……….. "Slainte!"
Swedish…… "Skal!"
Brazilian….. "Saúde!"
Spanish…… "Salud!"
German…… "Prosit!"
Zulu(Africa). "Ooogy Wawa!"
India......"Tulleeho!"



Other quotes of note:

I love to drink martinis.
Two at the very most.
Three I'm under the table.
Four I'm under the host!
--Dorothy Parker

Here's to heat...
not the kind that ignites and burns down shantys...
but the kind that exictes...and slides down panties!

When we drink, we get drunk.
When we get drunk, we fall asleep.
When we fall asleep, we commit no sin.
When we commit no sin, we go to heaven.
So, let's all get drunk, and go to heaven!
--Old Irish toast

Here's to a long life and a merry one.
A quick death and an easy one.
A pretty girl and an honest one.
A drink for you—and another one!
--Old Irish toast

An Irishman is never drunk as long as
He can hold onto one blade of grass and not
Fall off the face of the earth.
--Old Irish toast

Fill with mingled cream and amber,
I will drain that glass again.
Such hilarious visions clamber
Through the chamber of my brain.
Quaintest thoughts, queerest fancies
Come to life and fade away.
What care I how time advances;
I am drinking ale today.
--Edgar Allen Poe

May the devil make a ladder of your backbone
While he is picking apples in the garden of Hell.
--Old Irish toast

The problem with some people is that
when they aren't drunk they're sober.
--William Butler Yeats

Drink is the feast of reason and the flow of soul.
--Alexander Pope

A mouth of a perfectly happy man is filled with beer.
--Ancient Egyptian Wisdom, 2200 B.C.

May you live to be a hundred years,
With one extra year to repent!
--Old Irish toast

May you die in bed at 95 years,
Shot by a jealous wife [husband]!
—Jonathan Swift

Do not resent growing old.
Many are denied the privilege.
—Jonathan Swift

Payday came and with it beer.
-Rudyard Kipling

Work is the curse of the drinking class.
--Oscar Wilde



---

Quotes By Others:





"Splendid Work, Keep it up, in every possible sense". unknown



"People who try to pretend they're superior make it so much
harder for those of us who really are." Hyacinth Bucket



"Manure Occureth", unknown





"It's the creme-de-la-creme of bullshit." - Dame Helen Mirren



"I should imagine that one must have to go to a Bowling Alley
to meet someone of your stature". Sir John Gielgud

"Why don't you get out of that wet coat and into a dry martini"
Robert Benchley

"I am prepared to believe that a dry martini slightly impairs the
palate, but think what it does for the soul" Alec Waugh

"Twas a woman who drove me to drink, and I never had the
courtesy to thank her for it." W.C. Fields

"Madame, I may be quite Drunk. However, you are quite Ugly and
furthermore, at least I shall be

Sober

in the morning."
Winston Churchill



Sensuous, i.e. "Sensuous up, get me a drink." Deb

Gerlitz



"You can do foolish things, but do them with enthusiasm." Unknown

"She looked like Lady Chatterley above the waist and the gamekeeper below." Unknown



"I've had a perfectly wonderful evening. But this wasn't it

."

Groucho Marx

"Don't knock masterbation...It's sex with the person I love most!" Woody Allen

"First you forget your friend's names, Then you forget your own,
Then you forget to pull your zipper up, Then you forget to Pull
your zipper down." George Burns

"I may not be Perfect...But Parts of Me are Excellent." Unknown

"I very quietly confided to my friend that I was having an affair.
He turned to me and asked, "are you having it catered?"
...and that, my friend, is the definition of 'Old'.

"Of all the things I've loved and I've lost,
...I Miss my Mind the most." Unknown




---


"The Worst thing about being You????, I Should Imagine, Your Breath!" Unknown

"I see you've set aside this special time to humiliate yourself in public." Unknown

"...and he got pissed as a Nit."  Lord Hugh Highball

"You obviously harbor delusions of adequacy." Walter Kerr

"She shakes in Bed like a Paint Shaker at Sherwin Williams." "Charlie, on Two-and-a-half Men

"Men are like Linoleum...If you Lay them right, You can walk on them for 30 years!" Grace Kelly


"I feel so miserable without you; it's almost like having you here." Stephen Bishop

"He is a self-made man and worships his creator." John Bright

"I've just learned about his illness. Let's hope it's nothing trivial." Irvin S. Cobb

"Lord James you ask?.....I'm afraid he has the attention span of a lightning bolt. !" Unknown



"If people should mistake me for someone aristocratic, I don't want you telling them I'm not. It would simply confuse them. It's only good manners to let them believe it." Hyacinth Bucket (Pronounced Bouquet)



"He walked as if he had fouled his clothes and looks as if he smelt it." Unknown

".. stewed-up fragments of quotation in the sauce of a would-be dirty mind."
D. H. Lawrence

" I see you eat with more enthusiasm than accuracy." Frank Wood,
(upon observing a soiled table cloth).

"I must be on my way, as my wife will be out looking for me and is
sure to be quite cross. So, Thank you Gentlemen for the Cocktails
....And, Thank You Ladies for your Ample Bosoms!"
 Quote from a 90 year old gent who wandered into the Pub.



"Don't Drink and Drive. You might hit a bump and spill
a perfectly good drink." unknown

 

"A fool and his money …can throw one hell of a party." unknown

 

"Reality is only an illusion which occurs due to a lack of alcohol." unknown





"I race cars, play tennis and fondle women.
But, I have weekends off and I'm my own boss." Arthur

"I've taken the Liberty of anticipating your condition.
I have brought you orange juice, coffee, and aspirins
...or do you need to throw up?" Sir John Gielgud, in Arthur

"It's never too late to beef up your obituary..." Bernie Meehan



"The best way to a Fat Girls heart is through the corned beef". John Vandenbosch

"The Odds are Good but, the Goods are Odd"!
Martha Snowman Hymas, as stated at a recent
late night dance party in an art gallery.

I remember saying to my Pastor, that upon my death,
I should hope to be cremated.
His reply was "Oh, I shouldn't worry about that
based on your deeds and lifestyle"

---

Toasts:

Here's to you and here's to me,
I hope we never disagree, But, If we do,
Screw You and Here's to Me!

I Drink to your health when I'm with you,
I drink to your health when alone,
I drink to your health so often,
I'm beginning to worry 'bout my own.


---

Gentlemen, Start Your Livers!

Drink with Impunity -
or anyone else who happens to invite you !

Here's to feeling single,
seeing double,
and sleeping triple.

by My Charming Friend and "Person of Note", MASTER BATES
"Master" the perfect martini ©

"Twas a woman who drove me to drink, and I never had the courtesy to thank her for it."
-- W.C. Fields

It's an argument that has plagued modern man since the dawn of time. Well, since the early fifties, at least. Just how does one make the "perfect martini"? If you ask ten different martini drinkers, my bet is you'll get ten different answers. Most will be crap. Gentle readers, I intend to put this query to bed, for once and for all. The following is the only way to make the perfect martini. Read it. Memorize it. Become one with it. For this, indeed, is the ultimate guide to the good life.

First off, you'll need a few items:

-- Ice. Lot's of it.

--Properly chilled, stemmed martini glasses (Properly chilled means your glasses should be in the freezer for a minimum of one hour prior to making the martini. To avoid confusion, or disaster, I suggest putting said glasses in the freezer and leaving them there permanently.)

--Vermouth

--A glass pitcher or metal shaker

--Garnish, be it olives, or lemon peel. These are the only things, garnish-wise, that are permitted. Sure, you can use things like cocktail onions, but then it isn't a martini, now is it? The answer is no. It's a Gibson.

--And last, but obviously not least, Gin. Pay attention, dear readers. I said GIN. I did not mention raspberries, chocolate, or anything involving butterscotch. Those drinks may be "martini-like", by virtue of the type glass in which they rest, but the similarity ends right there, buster. And don't give me any of this James Bond crap about vodka. No! That is not a martini, either. Case closed.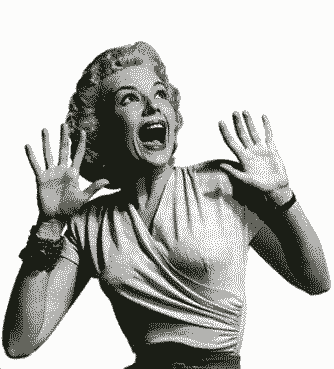 Shocking, I know.

Now, on to the main event. Ladies and Gentlemen, let's get ready to RRRRRumble!!!

First, grab the vermouth out of the fridge. It needs to be in the fridge, because it's a perishable item. Take off the cap. Pour the vermouth into the cap. That's all the vermouth you need. Now, take the glass pitcher, or metal vessel, out of the freezer, where it, too, should remain. Now, this is one place where my brother and I go our separate ways. He says to pour the vermouth into the vessel, and coat the bottom half. Then, pour out most of the vermouth, leaving only the smallest pool of liquid in the bottom.

Now, listen to me carefully, people. That's a load of horse pucks. The first thing is to put the ice in, then, and only then, does the vermouth go into the container. You want not only to coat the bottom of the shaker/pitcher, but the ice as well. And as far as leaving a pool of vermouth in the bottom, no matter how small, well...you know what that will get you? A less than perfectly dry martini, that's what!!! So, to recapitulate, in goes the ice (a healthy handful of cubes, at least seven to eight, in my opinion), then the vermouth, swirl, and out it goes, right down the drain. Now, it's not necessary to shake it to death. A drop or two of vermouth is in proper proportion, just not a pool. Capice?

On to the gin, which should be kept in the freezer (another place bro and I diverge). Let's be tasteful here, folks. The contemporary man has been trained by various restaurants and bars that a martini should be somewhere between the size of your noggin and a bowling ball. Nope, nope, nope. Two shots. That's three ounces. No more. Could be a half oz. less, actually. At this point, it depends what type of container is in use. If it's a glass pitcher, you stir. If it's a metal one, you swirl, in a semi-vigorous manner, but not violently. You want the ice friction to cause a chain reaction of cold, but you don't want to bruise the gin. As my brother says, Gin needs to be gently introduced to the vermouth, and there MUST be some ice melt dilution. On this point, he's correct. So, swirl, or stir, depending. Then, put it down, and put your accoutrements away. Find some good music. In my opinion, all this ultra-lounge stuff is fine. Mancini, Julie London, Les Baxter, et. al. I listen to it, too. But, my first instinct is now, and will always be, to go for the Sinatra. Why mess around? After Sinatra, there's Dean-o, then Sammy. After I've exhausted those, then, and only then, will I go for the lounge.

Okay, back to the drink. Swirl it some more. Then, put out something to nosh on. My preference is for good old fashioned cocktail peanuts, spanish-variety if you can find 'em. It was always good enough for Dad, so it's what I go with. I think it's passed on in the genes, actually. Other options are mixed nuts, or even blue cheese on crackers. As long as it isn't things like goldfish crackers, chex mix, yogurt-covered anything, etc., you'll be fine.

Back to the drink. Swirl some more.

Then, grab the olives out of the fridge. Take your toothpick and push out those nasty little red pimento buggers. Mount up two olives.

Swirl some more.

Strain the concoction into two martini glasses (I say two because martinis need to be drunk in the presence of beautiful women. The same logic goes for the olives. You use two, as Sinatra put it, so there's one for you, and one for the beautiful gal that's about to walk in the door.) In go the olives. Out go the days troubles.



-----------------------------------------------------
If you drink, don't drive. Don't even putt.
-- Dean Martin
--------------------------------------------------------

Now, a word on etiquette. Martinis are serious drinks, for serious people. Case in point: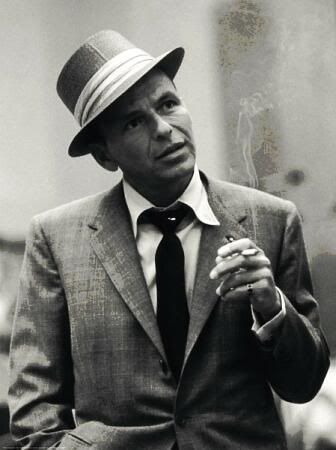 As I said before, they aren't to be made with amaretto, or as big as a football, and they most certainly are never, never, never to be drank while wearing jeans, t-shirts, or ball caps (whether worn frontwards, sideways, or backwards. N. O. means no. NO!) Of course, a tux is the ultimate, but not practical for most of us. A dinner jacket is nice. Or, a "loose flowing sport shirt", i.e. a classy, not chincy, hawaiian shirt. Again, that's Sinatra, this time from "From Here to Eternity". But, you knew that already, right? Right!?!? Good. I also suggest you try wearing a fez while making and drinking martinis. It really kicks the whole experience up about five notches. Like these gentlemen: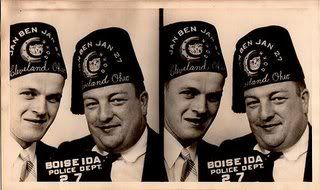 They look happy, don't they? Know why? Because they're completely stewed to the gills. And, they're wearing fezzes. Life...is good.

You have to remember, the martini is the King of the Cocktails. It's from a different era. A time when men wore hats, and took sauna baths, and not for nefarious reasons, I might add. Look at these guys: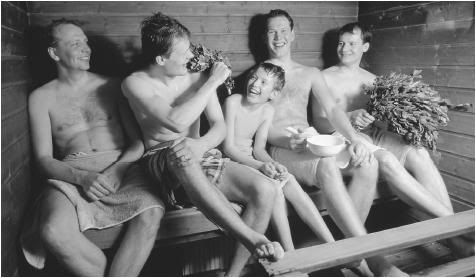 Now, don't they look relaxed? Know why? They're gassed. Blotto. Utterly snockered. Even the kid. Of course, they're also sweaty, naked, and thrashing themselves with palm fronds. Damn Finns.

A martini is not something to be raced through, but to take your time with, in a relaxed state of mind. All that hooey-phalooey about vigorous shaking, and drinking it before there's even a thought of ice dilution is for frat boys. Guys that drink their "martinis" with chocolate in 'em. Or vodka. Just look at movies like The Tender Trap. Now, while I don't advocate using equal parts vermouth to gin, nor making them in fishbowls, as was done in said film, the point is, it's a casual thing. Back in my Dad's day, martinis were made in large glass pitchers, with ice, and left to sit out. Kinda like in The Seven Year Itch. I do, However, recommend taking the cubes out before drinking. Marilyn didn't seem to mind, I must say.

---------------------------------------------
Happiness is a dry martini and a good woman ... or a bad woman.
--George Burns
-----------------------------------------------------

One last thing, while we're sorta on the subject. This is something that most martini-blogs, and various how-to publications seem to miss, or perhaps just stay the hell away from. Namely, a young slave girl at the ready, to light your cigar, rub your tired shoulders, and, of course, to apply the warm towels over the tired eyes.

And, perhaps even, a quick dance of the seven veils, if you're so inclined.
Or, if you're feeling froggy, no pun intended, perhaps a green broad.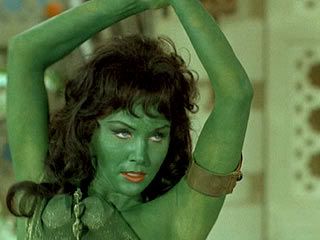 Can't go wrong with green.
Maybe even aqua, if you really wanna set yourself apart from the rest...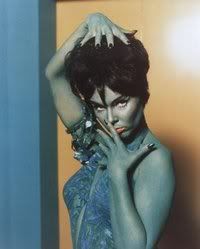 Now, sit back, drink in hand, and let the world slip by. You've done a good job. You've just made the coldest, driest, martini known to man. And that, my friend, is one helluva accomplishment.


Epilogue
----------------

It occurs to me in hindsight, as is always, somehow, the case, that any sort of treatise, or blog, or mandate whatsoever on the subject of martini-making, HAS to include a remembrance of my father. If it weren't for Dad, after all, I likely wouldn't have been drawn to the drink. I most certainly wouldn't have returned to it after my first taste. As I recall, it was likened to something between gasoline and...well, gasoline.

Dad was the quintessential '50's/60's martini man. Sort of a cross between Cary Grant, and Earnest Hemingway, if you will. I still recall with great fondness the days of my youth....

My big brother and I would be on the floor, playing with our tonka toys, or better yet, our beloved G.I. Joe's, in the living room. Dad would come home from "the office", (which, of course, being a marine, was hardly the same as the civilian world), in full uniform, tickle us till we couldn't take it anymore, and then, have a seat. It was then that the festivities would begin.

As quick as you please, off would come the shoes, and before you could say "gin", there was Dad, martini in hand. Mom would put the Hank Williams on the reel-to-reel...his favorite...or perhaps the Roger Miller (huge, at the time), grab the spanish peanuts, and in that one magic instant, the whole room seemed to change. It came alive, somehow.

On one occasion, I must admit, it came alive a little too much. But, that's gonna happen when you try french frying potatoes in the kitchen, and drinking martinis in the living room, concurrently. I still remember the panic, (after, of course, they got us kids out), of trying to hide the "martini evidence". It was base housing, after all. But, in the end, what's a little smoke damage among friends?

Well, Dad passed away this last August, and with him went all that history. He was eighty two when he died, and he still loved his martinis. Although, later in life, he had stopped drinking them "up". Having had the pleasure of his company in restaurants in recent years, his typical drink order would sound something like this:

"I want a beefeater's martini. Now, listen to me... I want it on the rocks, two olives, NO vermouth."

Now, you know, and I know, that ain't a martini. As much as I love a dry martini, it literally has to have some vermouth. Not for Dad. Just wave the bottle over the top, as he would love to say. But, that's how he drank 'em. And, boy did he! It's still a point of pride, and embarrassment, both, to me, that an eighty two year old could drink me under the table without a second thought, and never, even for a moment, seem inebriated.

I must admit, if you're ever in want of a martini, but don't have the time, or perhaps the patience, to deal with the cult of activity associated with normal martini-making; all the pouring in and pouring out, the shaking, etc., then this drink is for you. It's amazingly refreshing, and it really is as easy as all that: grab a low-ball glass, dump in some ice, skewer the olives, and pour approx. three ounces of beefeater's in.

In honor of memorial Day, and Dad, I had one tonight, after work, whilst listening to Hank Williams. I put one of the old vinyl records on the 1960 hi-fi stereo cabinet, the one that I KNOW was somehow his last gift to me. It fell into my arms, straight out of the clear blue, on the exact six month anniversary of his passing. There I sat, beefeater's on the rocks...two olives...hold the vermouth...

"Say, Heeeeey, good lookin', whaaaatcha got cookin'...."

Life was a fine thing....

Thank you, Dad. I love you. I miss you. Have a good sleep. You earned it.
To My Dear Colleague in Crime, Master Bates
My Dear Friend, Master Bates:

As you know, I have devoted most of my adult life, (OK, and adolescence after experimenting with LSD and the lot), to the fine art of Martini mixology, consumption and offering of same to the young, nubile and/or uninitiated fairer sex. This, of course in the name of education,(which accounts for the portable bar in the boot of my car). A missionary sort of thing you know.

That being said, I shall henceforth consider your article to be the Martini Bible, the Holy Grail of Martini Knowledge and a literary standard on "Gin-etics" !

I am so moved by your article, that I shall have LadyKC mix me a "Real" Martini Forthwith....Not one of those horrible "Nancy-Boy" Flavored-Tinis. Yeech, perish the thought.

I should alert your readers that after having read your article, they might wish to sell their stock in Stolichnaya and Invest in Beefeaters or Hendrick's Gin.

Alas, I have been convinced and converted !!!!!

Congratulations on a spot on piece of literature!

Cheers, Sir Brooks